Post by stargazer1682 on Mar 19, 2019 2:38:09 GMT
So 4 years ago Lex "turned" the sun red - did we know about this? Did they mention it in one off hand remarks they made over the years about things Lex had done to Superman? This seems like a bigger deal, seeing how it would have affected Kara too. Obviously this, ostensibly pre-dates the series, so she wasn't actively using her powers, but even just the strength and heightened senses would have been affected.
I'm not surprised this took place in the past, seeing how they spoiled it in the teaser. I gotta admit, Jon Cryer does a pretty decent job. It's certain a departure from say, Michael Rossenbaum or John Shea; and I still hear Clancy Brown first and foremost when picturing Lex Luther.
Oh, so that's why Lena's been in such a hurry to develop the super serum. Interesting approach with on Lex's Kryptonite poisoning. Not enough iterations of the character have tried tackling it.
Of course James' spine was injured by the bullet, that's how guns work on TV show; they either hit nothing at all, so as to give the audience a slight scare, but get the character back on the feet right away; or it injures their spine, so they can milk the drama about whether or not they'll ever walk again. Remember the exact same thing happened to Felicity?
I swear though, it looked like the bullet hit more towards his shoulder...
I kind of like the "Little boxes, comrade," moment between Brainy and Lena.
This whole thing of covering Kara's secret from Alex is getting super old.....
It occurs to me that if they weren't going to give Manchest Black his usual powers from the comics - what with there apparently not being anyone with meta powers on Earth 38 - then they should have made him another refugee from Mars; especially if they were going to pit him against J'Onn and make things so personal.
Oh, for fuck sake, obviously Lex has manipulated this whole situation so he can gain access to the black-K research. I'm only at the point where Lena is begging him to help her and it was obvious.
God dammit, they're going to hook-up Alex and James' sister, aren't they?
For the love of God, can they stop all this FBI bullshit and jut have the DEO agents work publicly as themselves. Every time I hear Alex refer to herself or someone refer to her as FBI it drives me fucking nuts (and for like, no good reason), but seriously, why the hell even bother pretending to be an agent of some other organization, when you're openly doing your job under that pretense? They should either have made the DEO some sort of subdivision of the FBI or just fucking identify herself as a member of the DEO! What is the point? It's unnecessarily co-opting another agency's authority and for what possible purpose? And what if the actual FBI were ever on the scene that a DEO team is also dispatched to? You can't tell me that would never happen.
What would happen? Alex strolls up, "Alex Danverse, FBI." "What? No, you're not FBI, I'm FBI. Who are you?"
"aaaaaaahhhh.... Smoke bomb!"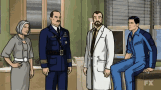 I really wish like, some random homeless person or someone happened to wander up to the group just as James' sister was bestowing blanket family privilege to see James and get updates; and then the story takes an arbitrary left turn where this homeless guy takes up a bedside vigil, keeping an eye on James and giving people updates about how James is doing. And then Kara's like, "who...are you?"
"Oh, I'm Terry. James' sister said I could be in here. She said we're family.... and we're going to pull through this...."
I get that Lex is a pretty bad guy, but would his guards be so unprofessional as to intentionally drop a glass of water on the floor?
(Ah, he was Otis all along....)
FFS, even on the off chance that somebody
could
pull a miracle elixir out of their ass in a few hours of tinkering with a serum that is otherwise liquid death; seriously, how is it better to risk James' life to inject him with an untested substance that
might
save him or could still conceivably kill him, rather than take measure that at least have some degree of proven odds of saving his life, just so he stands a better chance of walking again, so to speak?
This actress playing James' sister isn't working for me. She seems too casual with her delivery in some scenes; like clarifying that James might die if they do nothing, or saying "let's do that" when consenting to the surgery; and her conversation with Alex about Lena's cure fell flat to me. I mean, she made a good point about the history behind the Luther name and what it should mean to James - there's a past there between James and Lex that should be explored and really hasn't been, in spite of his relationship with Lena - but the deliver talking about that past seemed bland and disinteresting, even as she makes a valid point.
I kind of feel like Lucy should have been the one brought in. I'm trying to remember though; Lucy wasn't his ex-wife, right, just an ex-girlfriend?
Fuck you Alex. I know it's not your fault that you don't know better as to why Kara isn't there, but just fuck you.
"I'm not asking you to trust Lena Luther, I'm asking you to trust me." "Okay (stranger I met a few hours ago" - I mean, the audio dropped out after the first word, but I assume that was the full sentence.
And of course Eve brought the miracle drug with her....
Here again, this whole fight between J'Onn and Manchest would make more sense if Manchester were a Martian.
Also, terrible climax to the story. I mean, the whole point of the comic book arc was how Superman ultimately didn't allow Manchester to force him to stoop tohis level (although, I forget, it might have involved a fake-out leading Manchester to
think
Superman was going to or had taken a step too far....)
Of course Eve is helping Lex....
Oh, Christ.... I love Melissa Benoist (you know, metaphorically speaking), but we're really going to have to listen to her try and do a Russian accent?