Post by mecano04 on Dec 24, 2017 22:43:16 GMT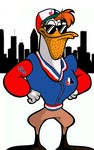 Yeah, I suppose it was possible that an F-16 was flying just a few feet above the rooftops... after all, if Santa Claus can fly his sleigh along the roof tops, the all mighty US Air Force can too...
It very disturbing that people don't understand that most rules are not to be broken... Especially when people think there is nothing wrong with breaking the rules of "Aerodynamics 101"...
On Friday, 24 June 1994, at Fairchild Air Force Base, Washington, USA... A Boeing B-52 Stratofortress pilot, decided to break the rules of "Aerodynamics 101", and tried to make a tight turn by banking his BOMBER to a 90 Degree angle... Here's what happened: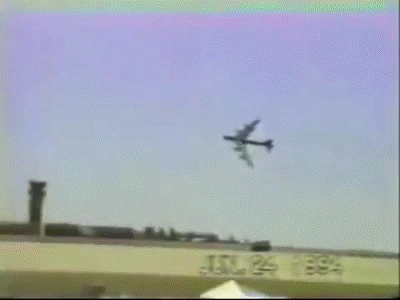 B in B-52 stands for Bomber.. NOT fighter... and as we saw, there is a reason for that... All of the lift provided for by the level wings that kept the plane in the air, was completely eliminated by turning the plane on it's side... And The plane crashed just as the designers would have expected. DUH! Sadly, the entire crew was killed.
en.wikipedia.org/wiki/1994_Fairchild_Air_Force_Base_B-52_crash
Most rules exist for one very good reason or another. That's why you shouldn't break them.
But, If true, I guess we'll never hear an admission from that F-16 pilot, that he was really doing something stupid.
That accident is well known but still a good example of the consequences of not following the procedure & rules.
Anyway, here is the FAA rules as for altitude in general:
"
91.119
Minimum safe altitudes; general
Except when necessary for takeoff or landing, no person may operate an aircraft below the following altitudes;
(a) ·Anywhere. ·An altitude allowing, if a power unit fails, an emergency landing without undue hazard to persons or property on the surface.
(b) ·
Over congested areas
. ·Over any congested area of a city, town, or settlement, or over any open air assembly of persons, an altitude of 1,000 feet above the highest obstacle within a horizontal radius of 2000 feet of the aircraft.
(c) ·
Over other than congested areas
. An altitude of 500 feet above the surface except over open water or sparsely populated areas. In that case, the aircraft may not be operated closer than 500 feet to any person, vessel, vehicle, or structure.
(d) ·Helicopters. ·Helicopters may be operated at less than the minimums prescribed In paragraph (b) or (c) of this section if the operation is conducted without hazard to persons or property on the surface. In addition, each person operating a helicopter shall comply with routes or altitudes specifically prescribed for helicopters by the Administrator.
Source:
www.faa.gov/about/office_org/field_offices/fsdo/atl/local_more/media/nlowfly.pdf
"
It's for civil, but considering the engine noise, it shouldn't be much different for military aircrafts in training near civilization. Somehow, up here in Canada it's 1000 feet for congested areas otherwise it's also 500 feet.