WTF???
Nov 2, 2017 6:18:42 GMT
Post by deblovesbeccy on Nov 2, 2017 6:18:42 GMT
I just come across this and thought I would share.

'Supergirl': First Look At Odette Annable As Reign
The CW has released a first-look photo of Supergirl's newest baddie: Odette Annable as Reign, who will be introduced later this season.

The character is described as the big heavy of Season 3, part of an interpretation of the infamous Worldkiller storyline from the pages of the DC Comics. Although the character is based on the comics, the costume for Annable's TV character will be different from the DC version. Check it out below.



According to the DC Comics description, Reign was one of five Worldkillers created by Zor-El, who later came to regret his part in the creation of those blood-thirsty, super-powerful monsters. Reign and her partners survived Krypton, but her origin remained a mystery — even to her. In the comics, Reign becomes an enemy of Supergirl when the villain arrives on Earth, with plans to conquer it.





Supergirl airs at 8 PM Mondays on the CW. Here is a look at Annable as Reign:
deadline.com/2017/10/supergirl-first-look-odette-annable-reign-1202197702/
Wow. This is truly awful and I am very disappointed to say the least. How a villain can go from looking like this (below) to what we saw above is a big, big letdown when Reign is supposed to look alienlike and they have had other aliens in the show in alien forms so it isn't like the showrunners don't have the money to pull the look off. I am still interested in seeing what the writers do with her and I think her daughter will die and Supergirl won't be able to save her and that will lead to her blaming Supergirl for her daughter's death and becoming a villain but the look is awful.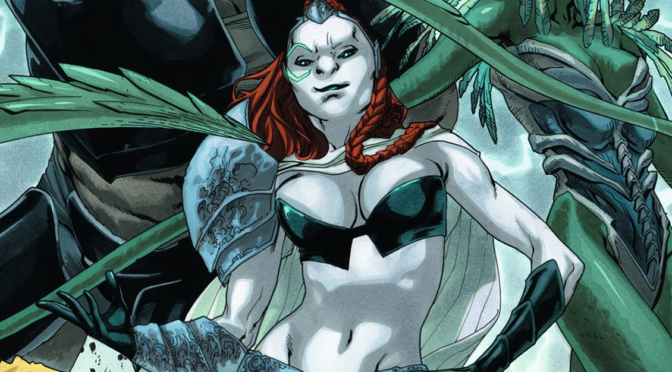 Here's What Supergirl's New Villain Looks Like And I Demand An Explanation
The CW has released a new photo showing off the costume Supergirl's big villain for the season, Reign, will be wearing. The costume involves a lot of black, a lot of plastic, and some kind of leatherette. I have many questions.



Image: DC Comics


First let's look at the costume. The new photo, first appearing on TVLine, shows actress Odette Annabelle - who has been playing the beleaguered single mum Samantha, who becomes Reign in the near feature - in a suit that sure is something! Now, keep in mind that while we don't know her deal on the show yet, in the comics she's a living superweapon genetically engineered by Kryptonian scientists.



A lot is happening here. There's the skull insignia which reveals that Krypton had a deeply metal side. There's the cut of the suit and fabric, which appears to be a nice nod to Kara's blue supersuit and probably the suit the evil Nazi alt-universe Supergirl will be wearing later this season. There's the hilariously dinky pauldron which is obviously a nod to the pauldron worn by her comic incarnation. And there's the metal tip on her braid, another nod to her comic character. Pauldron aside, these are all pretty cool design elements!



But there's also the cape, which is, like, brown? Magenta? Some shade in-between? And the leather chest plate that was clearly whipped together by a harried costumer maker at 2:00AM the day before the shoot because OH GOD THAT SHOOT IS TOMORROW OH GOD.



More importantly, there is the mask which is part bondage, part Lincraft, and a whole lot of where my questions start. Chief question: Who has made Reign this supersuit? Because presumably this is not a happy single mum trying to be a superhero supersuit. Bondage face crown and skull symbol on the chest do not scream family friendly. Is Cadmus making this? Some evil Luthor? Did the weird cultists on Krypton take a leatherworking course at summer camp?



Or did Reign make this herself? Is this the result of a single mum gone evil getting crazy with sewing machine?



And who is Reign? Is she a mum trying to be a super hero? Or does Reign periodically go to a dark place, apply her mauve lipstick and tear things up?



Fingers crossed season three answers at least two of these questions.
www.gizmodo.com.au/2017/10/heres-what-supergirls-new-villain-looks-like-and-i-demand-an-explanation/