Post by Salzmank on Apr 4, 2018 23:08:54 GMT
Hope no one minds if I throw in yet another '60s show (so many good shows…).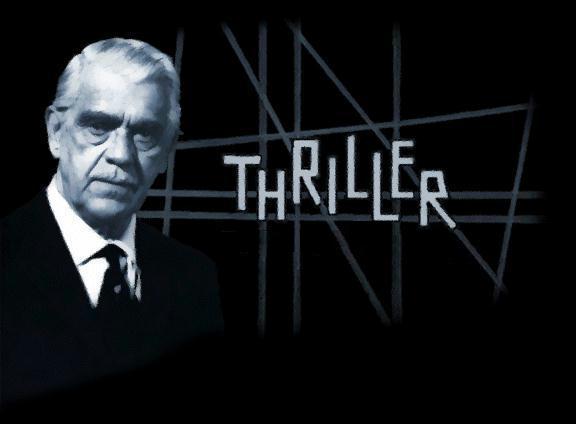 There is so much to like about
Thriller
that I always feel like a bit of a grinch (yes, of course that's on purpose) when I criticize it, but in many ways it achieved such notoriety between the original two years it aired and the much-ballyhooed DVD release a few years back that it just couldn't live up to.
That is not to say, however, that
Thriller
is a bad show or even that its weaker episodes are not without their good points. Its horror episodes are the ones that are remembered, and they're by far the best episodes, so it's kind of disheartening that 13 or so of the first 15 episodes are straightforward and rather weak crime dramas, and even later on in the series it's not entirely horror-centered—which is, again, unfortunate, as the horror episodes are by and far
Thriller
's best.
Boris Karloff hosts, and his introductions are on par with Hitchcock's and Serling's—immensely entertaining even when the episode itself is weak. I haven't seen all the episodes, but I have seen many of them.
I'll confess that I was a bit confused by how favorable some of them have been rated—especially "Pigeons from Hell," which has some decent atmosphere but truly atrocious, nigh-unbearable acting. We can't feel for any of the characters and are thus not particularly worried if anything's going to go wrong for them. It's best watched with the soundtrack off. "The Grim Reaper," while far better than "Pigeons from Hell," also seemed weaker to me than many claimed; the plot is good but (in a reversal of "Pigeons") the atmosphere paltry, and Shatner (as is his wont) overacts. A far better Shatner episode is what I consider the series masterpiece, "The Hungry Glass," which combines oodles of atmosphere, good acting, and very likeable characters. That episode is highly recommended.
A few more I greatly enjoyed: "Well of Doom" is a rather ingenious re-working of Tod Browning's
London After Midnight
/
Mark of the Vampire
, with Henry Daniell wearing a reproduction of Chaney's
LAM
vampire costume; "The Purple Room" has fun with haunted-house clichés and is indebted to "The Gentleman from America"; "Guillotine," without supernatural elements (but still horrific), has a brilliant Cornell Woolrich plot set during the French Revolution; "God Grant that She Lye Stille" borrows a great deal from Bava's
Black Sunday
but is lots of fun; and "The Storm" is an effective thriller that could have been a
Suspense
episode (but was, I've now learnt, a
Studio One
episode).
Anyone here like this one or want to post some favorites?