Post by Waxer-n-boil on Apr 10, 2018 15:26:03 GMT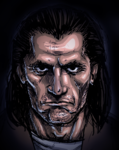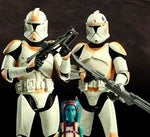 The movie attracted a new generation of fans to make up for the angry OT fans who were pissed there were new movies.
That's NOT why TFA was so successful at the box office. TFA was so successful because they marketed it (somewhat misleadingly) as a SW film that was going to provide what every SW demographic wanted.
The PT fans wanted new worlds. They wanted new characters with SW heritage (OT or PT) but with a new, unique twist.
Disney marketed that by only showing the ship graveyard of Jakku in their trailers. They never show the salvage town that rips off Mos Eisley. Disney also shows a shot of Maz's castle and a new droid. They show Rey on a new land speeder. (A new character using new tech). Kylo's outfit bares some resemblance to a Legend EU character. Finn is first seen as a Stormtrooper, then with a lightsaber against Kylo. The way the trailers edited Finn's scenes it implied he could be a new type of character. Perhaps a Stormtrooper who becomes a Jedi. This was all clever marketing by Disney to get prequel fans to see TFA without any reservations that might come about because it would be a movie that didn't include their tastes. It worked. PT fans turned out in droves the first month before word start to spread about the real tone of the movie.
OT fans wanted a SW that looked like OT SW again. They wanted to see that organic universe onscreen. And keep the prequel look and pacing to a minimal. They wanted new characters that were in the OT style of characters. They wanted that type of pacing back. And they wanted to see their OT favorites share the spotlight with the new characters. They wanted to see where the OT characters had evolved to taking on new threats.
Disney marketed TFA in a way that it looked like it was going to bring all of those things. The trailers showed the Millennium Falcon prominently. (But they never showed who was piloting it). It showed some X-wings and TIE fighters. We got a cameo of Han and Chewie entering the Falcon; cleverly implying that they were the ones flying it in acrobatic maneuvers. There are scenes of Vader's helmet, a chrome Stormtrooper, and a cameo of Luke with a mechanical hand kneeling by R2D2. All of this was designed to whet the appetites of OT fans. They also show the new characters in the trailers more than they do the OT characters. All of the posters prominently featured the ST characters; giving the impression that they would have more screen time. OT fans were hyped for the messages this was sending. It worked. The OT fans turned out in complete support at the box office for TFA. (In fact not one negative thing was said in the OT camp until a rumor surfaced a week before the premiere that because Luke was not on any of the movie posters, he would only have a cameo in the movie. Turned out to be true).
Also, none of the trailers ever showed Finn's Disney stooge act, which would have brought on flashbacks of Jar Jar for OT fans.
Disney also marketed this movie to it's own Disney audiences aka Disney warrior princess fans, by showing the female lead in harsh environments and prominently featuring her in the movie posters. That drew the curiosity of Disney fans who wanted a live action heroine done at least partly in the Disney style. (Little did they know - to their delight - that they heroine would be rigidly prototypical of the Disney warrior princess).
This is why TFA made 2 billion dollars! Because everything I just said about how those different fanbase demographics received TFA is true. TFA made a billion dollars in its first 2 weeks! That's a record that will probably never be broken. And it happened because all of the SW fanbases turned out in total support. What happened was that after 2 weeks word was starting to circulate about some of TFA's problems (despite media sources still clinging to not revealing spoilers)... the rumor about Luke getting confirmation, the heavy rehash of ANH, Rey's use of the Force looking more like Disney magic. Prequel fans began to stall their support. And a minority of OT fans began to curb their box office enthusiasm. After a month... a month in a half, media sources were starting to reveal spoilers and the total identity of TFA was revealed even more widespread. This tamed box office attendance overall. The Disney princess fans were now fully aware of Rey's warrior princess characterization. They were continuing to make repeat viewings and turn out in droves. Most prequel fans were giving sparse support. And the OT fans were divided with a minority drawing away from repeated viewings, but a majority slowing their repeat viewing enthusiasm but still turning out.
This explains why TFA made half it's box office in the first 2 and a half weeks. It was actually on pace to blow by 'Titanic' at the box office to the tune of embarrassing it. It was on pace to surpass 'Avatar'. And you know what? If TFA had been the movie that they marketed it to be - it would have.
So yeah, Disney screwed up the best hand in cinematic history!
OT fans were perfectly okay with the new characters
Up til they realized they were going to be leads and no useless sidekicks to the OT cast.
Nope. Up until they saw the movie and realized that they had been somewhat suckered with false marketing. And they had to stomach the above issues I mentioned.
Disney was dealt a great hand!
They OT cast had to come back to appease the OT fans, even at their age. And the 30 years between meant that there were 30 years of OT fans imagining how the Galaxy would've turned out and there was no way Disney could match up to their headcanon fantasies.
As
ryboto
has said - this is just a bunch of slanderous, baseless rambling.
(Yawn)
All they had to do was complement the OT characters and ST characters with each other.
Not possible. The OT characters weren't written as characters meant to be replaced, they were written as epic heroes who didn't need help or the possibility of replacement. Write them the way they were in the OT and they'd have nipped the First Order in the bud and thus the ST would have no reason to exist. Nor would there be a purpose to the existence of the ST characters, since there's no need for them when the OT cast were available.
More baseless rambling that amounts to lies which have never been supported with a crumb of evidence!
But as we see Disney screwed up a great hand by removing the top protagonist from TFA and butchering his portrayal in TLJ.
So yeah, Luke the Super-Jedi was expected and fans were PO'ed he wasn't the lead.
Fans were pissed off because he was reduced to a no-dialogue, 5 minute cameo in TFA. Then reduced to a non-Jedi, drunken, grumpy hermit in TLJ.
Everyday more lies...