Post by Catman 猫的主人 on Mar 15, 2019 3:05:01 GMT
As one would expect for a cat with her background, Katsura has spent most of her time in the safe room finding new places to hide. Unfortunately, she has not been eating or drinking, so Catman decided a trip to the veterinarian was in order. Since the clinic opens at 7:30 AM, Catman got up at 6 to allow plenty of time to find Katsura and put her into her carrier.
After searching about an hour, Catman began carefully moving things around trying to figure out just where she'd found to hide. Finally at 8, Catman called the folks at the animal shelter for advice. They suggested enlisting Miko in the search. When Catman opened the door, Miko scampered into the room straight for the treats Catman had set out for Katsura and ate them. Then she got down to business and located Katsura within a few minutes up in the rafters behind an HVAC duct.
Of course, the unexpected sight of a cat up in the rafters gave Miko a start, so she hissed and growled. But when Catman called her, she turned around and came down to where Catman stood, announcing loudly that there was a cat up in the rafters. Catman thanked her for her help and took her upstairs for a well-earned bit of canned food.
Now Katsura had found a nearly perfect hiding place where no human could venture without removing the ducts. Quite frankly, she looked a little bit more than pleased with herself. However, Catman saw a way to give her a gentle poke on her thigh, and she scurried along the rafter to the other side of the room. Catman gave some thought about how to block her path back to the hiding spot, and it turned out that stack of old issues of
The Journal of Advanced Composition
was just the right size to form a block.
Getting her to a spot where she could be safely captured took a bit of doing, but Catman persisted, and after a lot of running back and forth, Catman finally got her up against the wall. She was surprisingly easy to handle, no hissing or squirming about, which was fortunate given that Catman was standing on a ladder.
By this time, it was 11 AM. Catman called the veterinarian and explained the situation, and even though they had no openings today, they told Catman the doctor would work her in somehow. When Catman and Katsura arrived at the clinic, the vet techs got her weight and let Catman wait with Katsura in the examination room.
During the wait, Katsura started to rub up against the carrier door, so Catman let her sniff his hand, and she started to purr. So Catman opened the door, and she rubbed up against his hand, purring and trilling. When the doctor came in, Katsura was cooperative during the examination. The doctor decided there was no physical problem and went to get some extra stinky food.
While the doctor was out of the room, Katsura decided to explore. Unfortunately, when she jumped on the counter, she landed in the sink and scared herself. She started to panic, but when Catman went over to her, she seemed reassured and resumed her explorations.
The doctor did have a number of other things to do, so during the wait, Catman called Catwoman and filled her in on the adventures so far that day. She agreed that once the doctor brought the food, Catman should go home and spend time with Katsura and Miko.
At home, Katsura was a bit freaked out again, and when Catman opened her carrier, she went back up to that same rafter. Catman took care of a few items to give Katsura time to settle in. With the ladders still in place, Catman climbed up and let Katsura sniff his hand. She relaxed and purred, and Catman petted her quite a while.
This evening, Catman took a picture of Katsura in her new hiding spot.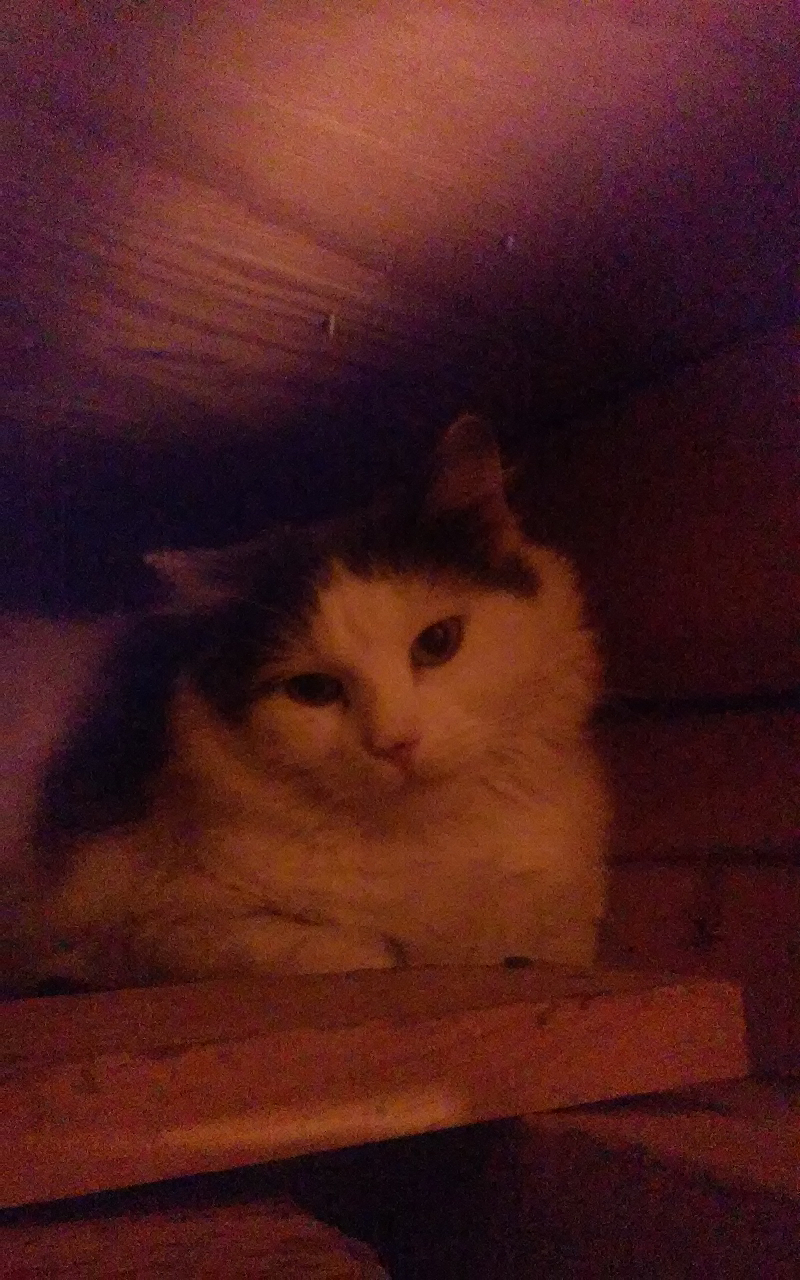 She's happy to be petted as long as she's on that rafter, and she's eating a bit, so things are looking up.