Post by petrolino on May 11, 2019 23:03:30 GMT
Stevie Wonder : Tripping Through Time

'Signed, Sealed & Delivered' (Released: August 1970 / Label: Tamla)
Pianist Michael McDonald released his sixth studio album 'Motown' (2003) early this century, and with it he paid tribute to the hit record factory Motown Records, a musical production company originally founded by Berry Gordy as Tamla Records in 1959 in Detroit, Michigan. The Doobie Brother and Steely Dan member paid tribute to some of his favourite songwriters on this record, including Smokey Robinson and Stevie Wonder who'd co-written The Miracles' soul classic 'The Tears Of A Clown' (1967) together. When Wonder first joined Motown it was with the support of Robinson's band The Miracles. Bob Dylan called Smokey Robinson one of America's "great poets" and Smokey took it as his personal responsibility to help with the development of young talent at Motown.

The Miracles recognised Wonder as being a genius, a child prodigy who was an extraordinary multi-instrumentalist, a technical visionary, a creative songwriter and a soulful church singer schooled in the Baptist Church. The track selected by McDonald to represent Wonder was a bold step forward in terms of songwriting craft and sonic sophistication, the stomping '"Signed, Sealed, Delivered I'm Yours' which was co-composed by musical artist Syreeta Wright, rhythm & blues ace Lee Garrett, and Stevie's brilliant mother Lula Mae Hardaway. The album 'Signed, Sealed & Delivered' delivers a confident set produced by Wonder, with contributions from different songwriters and a stand-out cover of a song by the Beatles.

"Any of the 12 songs on Stevie Wonder's new album holds more creative singing than you're likely to find in another performer's entire body of work. And while everything may not reach the energy level of the title song, "Signed, Sealed, Delivered," there's not a bad cut on the LP."
- Vince Aletti, Rolling Stone
'Donald Fagen's The Nightfly was released on October 1, 1982 on vinyl and cassette. It was also released in its first prerecorded digital form, via half-inch Beta and VHS format cassettes issued by Mobile Fidelity Sound Lab. In addition, a matching folio for the album was released by Cherry Lane Music in February 1983. It was first widely available on compact disc in 1984; a reader's poll conducted by Digital Audio magazine the following year ranked it among the best releases of the time, alongside Security (1982) by Peter Gabriel (another fully digital recording) and Bruce Springsteen's Born in the U.S.A. (1984). Early CD copies, however, suffered from being manufactured from third and fourth generation masters. Nichols discovered this when he received a call from Stevie Wonder, who told him that his CD copy of The Nightfly sounded "funny." Nichols penned an essay in Recording Engineer and Producer, criticizing record companies' apparent carelessness in manufacturing the then-nascent format. The Nightfly was reissued on various disc formats four times in recent years, each time with a multichannel mix: on DVD-Audio in 2002, on DualDisc in 2004, on MVI in 2007 and on hybrid multichannel SACD in The Warner Premium Sound series by Warner Japan in 2011.'
- Wikipedia
Sylvia Moy
'Black Water' - Doobie Brothers \ 'The Goodbye Look' - Donald Fagen
..

'Where I'm Coming From' (Released: April 1971 / Label: Tamla)
Stevie Wonder's next album was deemed a failure by some music critics, including some who'd been supporters of the songwriter's work. It was roundly eclipsed by the release of Marvin Gaye's seminal album 'What's Going On' (1971). Wonder was left reeling but remained resolute. He demanded more artistic freedom and this was granted.

"This is not Stevie Wonder's first self-produced album he did his last, Signed. Sealed and Delivered. as tight and soul-satisfying as any to have come out of Motown but clearly Where I'm Coming From is an attempt to establish a more completely personal, idiosyncratic style and project it on his own terms. Already one of the most inventive, expressive singers performing today, Stevie apparently wanted an opportunity to loosen up outside the confines of the typical Motown single. But he blew it. Not only are the lyrics sadly undistinguished, but much of the production and arrangement is unusually self-indulgent and cluttered with effects that too often obscure the utter virtuosity of Wonder's singing."
- Vince Aletti, Rolling Stone
Marvin Gaye & Stevie Wonder
'Music Of My Mind' (Released: March 1972 / Label: Tamla)
Boom.
"Music of My Mind was Stevie Wonder's first release after he gained complete artistic freedom from Motown Records' "hit factory". Re-signing to the label after his contract lapsed on his 21st birthday, no committee would tell him which track to release as a single or what cover versions to include – this was now his domain alone.
Aside from trumpet, guitar and support from his wife at the time, Syreeta Wright, Wonder played every note on this, his 14th studio album. It also marks the first time he collaborated with synthesizer pioneers Robert Margouleff and Malcolm Cecil.
Music of My Mind is a work that brims with passion, excitement and exuberance. Opener Love Having You Around signposts the new territory: a leisurely, synth-driven jam, its propulsive beat, jive talk and the line "Every day I want to fly my kite" render it childlike celebration of the freedom Wonder was now enjoying.
The album was described at the time by Sounds as representing the "coming of age of black soul music", and it's as much the sound of African-America in the early 70s as Marvin Gaye or Curtis Mayfield. From Wonder's visible afro on the cover to its reference to Melvin Van Peebles' then-current landmark blaxploitation movie Sweet Sweetback's Baadasssss Song, it was the record that put to bed "Little" Stevie Wonder forever."
- Daryl Easlea, The British Broadcasting Corporation
Robert Margouleff & Malcolm Cecil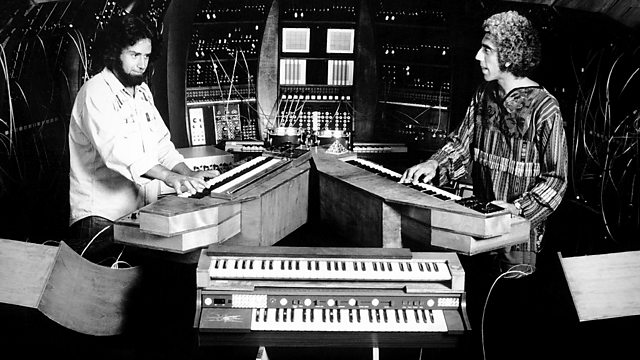 'Superwoman (Where Were You?)' - Stevie Wonder
'Talking Book' (Released: October 1972 / Label: Tamla)
"It always makes sense to talk about Stevie Wonder, especially when it comes to Talking Book, which comes along at a pivotal moment in Wonder's career. Stevie had just turned 21, so he gained access to the million-dollar trust fund that was set up in his name when the hits first started coming. Instead of sinking his money into a solid-gold bathtub like I would have, he wisely invested back into his career, expanding his capacities with new-fangled synthesizer technology. Still, I'm not sure what you're talking about when you say there's too much balladry. Yes, the wispier side of Stevie is here—it's always here somewhere—but Talking Book is still an album with some real meat on its bones. By my count, only three tracks here have that softish quality to them ("You and I", "Blame It on the Sun", and "Looking for Another Pure Love"), and it's true that those three do tend to make me shift around in my seat. Every other song here is built around a solid, albeit subtle, groove.
But because so many folks dig into a Stevie Wonder album for the tougher numbers, they tend to miss out on some hidden gems. If I may direct your attention to "Big Brother", which for some reason wasn't a hit single. Wonder plays a clavinet part that sounds for all the world like fingerpicking guitar and summons up the spirit of, I don't know, acoustic Zeppelin? At least the Faces. So much genius. I'll forgive him any spacey meanderings and gloopy ballads just on the strength of tracks like "Big Brother". Listen to it again, Mendelsohn."
- Eric Klinger, Pop Matters

Stevie Wonder & Grover

'I Believe (When I Fall In Love It Will Be Forever)' - Stevie Wonder

'Innervisions' (Released: August 1973 / Label: Tamla)
"Stevie Wonder had risen to fast fame as a Motown prodigy, boasting a sun-surface smile with an embryonic stage presence that shone even brighter. Innervisions looked past all of that, toward the most serious, most complex topics Wonder had ever tackled. "We as a people are not interested in 'baby, baby' songs any more," he said back then. "There's more to life than that."
The result was a remarkably tough-minded examination of life's seemingly intractable problems: From the scarring impact of drugs (in the album-opening "Too High") to this world's soul-deadening hypocrisy ("Jesus Children of America," "He's Misstra Know-It-All," which was aimed at the Watergate-era White House) to the stark choices left for those trying to traverse a stark urban landscape ("Living for the City"), the trenchant Innervisions pulled no punches. Wonder crafted every word himself, and in so doing spoke more clearly than ever.
Then he went further. Wonder's continuing solo experiments with the TONTO synthesizer, an instrument only just then gaining interest in the black community, represented an exciting new sound for R&B — and they were very much solo experiments. Seven of the nine songs here were played in their entirety by Stevie Wonder. Absent other collaborators, his clever blending of rock, soul, Latin, R&B, reggae and gospel styles was all the more impressive.
That last genre was of particular note, as Wonder finally allowed his faith to move to the fore. "It was all about belief; it was all about spirituality," Malcolm Cecil, associate producer and co-creator of the TONTO synth, told Wax Poetics in 2013. "We all had that spiritual thing in common. In addition to the social consciousness, you bring spirituality into it, you bring the love into it, then you bring the musicality into it then the art into it, then the engineering perfection then the constant attention to detail – and that's when you get an album like Innervisions."
Darkness does not prevail, and that remains one of the more intriguing elements of this often brutally frank project. Along the way, Wonder's "Visions" reminds those who feel overburdened that "today's not yesterday, and all things have an ending." With a lyrical sweep that framed frank social realism with a fierce struggle against the dying of the light, Wonder's narrative approach mirrored the complexity of living in the United States — both then and now.
"Innervisions gives my own perspective on what's happening in my world, to my people, to all people," he told The New York Times in 1973. "That's why it took me seven months to get together — I did all the lyrics — and that's why I think it is my most personal album. I don't care if it sells only five copies: This is the way I feel."
It did far better than that, of course."
- Nick Deriso, Ultimate Classic Rock

'Innervisions is an album themed on social issues, drugs, spirituality, and urban life by Stevie Wonder in 1973. Wonder did virtually everything on this album from songwriting to producing to playing the vast majority of the album's instruments and it may have been an attempt to replicate Marvin Gaye's landmark 1971 What's Going On album. Innervisions achieved similar artistic and commercial results to that previous album with the added dimension of musical innovation. Wonder put all the different topics and themes into a striking vision (or "Innervision") which would be one of the most effective and entertaining of Wonder's long career.
Although he was only 23 years old at the time of its release, Innervisions was already Wonder's 16th studio album, all on Motown's Tamla label. However, it was the first on which he composed every song and virtually played every instrument. He made heavy use of the ARP synthesizer, which was popular at the time because of its ability to construct a full sound environment. Many considered this album to be the pinnacle of Wonder's long career. As one reviewer put it at the time;
"Stevie Wonder's Innervisions is a beautiful fusion of the lyric and the didactic, telling us about the blind world that Stevie inhabits with a depth of musical insight that is awesome…"
- Classic Rock Review

Elton John & Stevie Wonder
'Golden Lady' - Stevie Wonder

'Fulfillingness' First Finale' (Released: July 1974 / Label: Tamla)
"It's no Wonder Stevie is one of the most famous men in the history of pop music. His virtuosic piano skilled coupled with his absolutely stellar songwriting abilities is a killer duo. As if that wasn't enough, his soaring, powerful voice is one of the most recognizable in soul. He simply has so much talent, it's almost a given that he's reached the status he has. The 1970s is usually referred to as his golden period, due to releasing a string of strong efforts, including Innvervisions, Songs In The Key Of LIfe, And Fulfillingness' First Finale.
Fulfillingness' First Finale is one of Stevie's more overlooked records, overshadowed by the gargantuan legacy left by the aforementioned records. Wedged in between the two, it's often forgotten, but by no means unmemorable. It is decidedly more subdued than most of his records; at a lean ten tracks, it lacks the lengthy compositions present on Innervisions. Lyrically, he's less political for the most part and more focused on himself, therefore making it a more personal record than previous efforts. Perhaps it was the near-fatal car accident he got himself into in 1973 that made his music more cautious. Despite this, still contains the trademark mix of catchy funk, downtempo soul and quiet ballads."
- Turbo Virgin, Sputnik Music
"Fulfillingness' First Finale is one of Stevie Wonder's more experimental albums, with extraordinary innovation in bass, but it doesn't gain much traction outside of music circles. It is underrated."
- Daylo Forest, Senor Macdaddy
Alice Cooper & Stevie Wonder
'Boogie On Reggae Woman' - Stevie Wonder
'Songs In The Key Of Life' (Released: September 1976 / Label: Tamla)
"Stevie Wonder's legacy ranks among the most powerful in pop music, though his story remains elusive. His songwriting and his voice echo through virtually all R&B-related sounds that have followed him, from Michael Jackson to R. Kelly to Kanye West, yet there is no major biography, no documentary, nothing that presents the full sweep of the most dominant and defining artist of the 1970s. And make no mistake—it was an era of superstar acts and chart-busting albums, but no one was as universally loved, respected, and honored as he was.
To be sure, Wonder has done himself no favors in getting his story told. Long ago, the media figured out that his world runs on "Stevie Time," that schedules and deadlines don't apply to this towering genius, whether that means showing up for an interview or delivering an album.
"You set a goal in your mind," he told me in 2005, when the record A Time to Love was released after many years' delay, "and you say, O.K., this is what these songs need to have, this project needs to have, and you don't really settle for anything less than that." As good as his word, Wonder has not put out a new album since.
But even Stevie Wonder realized that there was one project of his that demanded to be recognized and appreciated while he was still able, and in 2014 he mounted a tour to present, in full, his 1976 magnum opus *Songs in the Key of Life, *which turns 40 next month. The album—two LPs plus an additional four-song EP—was the culmination of a historic period of creativity, a concentrated burst of music matched only by a handful of artists (mid-'60s Bob Dylan, early '70s Rolling Stones, '80s Prince). Its ambition and scope were unprecedented, its power and resonance were timeless—and when it was done, he never approached its caliber or impact again."
- Alan Light, Pitchfork
"Songs In The Key Of Life is a hard, bold swing for the fences, employing more than 100 backing musicians and working on a canvas that incorporated pop, jazz, rock, and classical music. Wonder fearlessly wrote about inner-city degradation, both with a stately synthesized string-based backing on "Village Ghetto Land" and a relentlessly funky snap on "Black Man." He's religiously pious on "Have A Talk With God," and lightly romantic on "Knocks Me Off My Feet." He delves into jazz-rock jamming on "Contusion," and then pulls back for the disciplined, feel-good pop of "Sir Duke." Many of the songs leisurely run into the six, seven, or even eight-minute range, but they're always guided by Wonder's unerring sense for hooks. Wonder had the power and prestige to fully bend the '70s superstar machine to satisfy his every creative whim, and he was determined to pull off a supremely grand gesture on a very large and public stage. Songs was the rarest of beasts: It was expected to be nothing short of a masterpiece that also did blockbuster numbers, and it absolutely delivered on both counts."
- Steven Hyden, The A.V. Club
"The double album is the superstar musician's favorite indulgence. A double LP, more often than not, is a status symbol for top-tier pop artists to both flex creatively and to announce themselves as an artiste of the highest order. Double albums are, by nature, sprawling; a testament to both the artist's creative ambition and ego-driven indulgence. In the post-CD era, double albums are especially unnecessary and overstuffed—even the best double albums since 1987 are weighed down with just too much music—and not all of it is inspired. But in the 1970s, the album was still the tool with which artists transmitted their most evocative musical ideas, and the double album was a sign that you'd reached a certain level of artistry.
And while the LP era gave us a plethora of great double albums—the visceral urgency and variety of the Rolling Stones' Exile on Main St., the mish-mash collection of eccentricities on the Beatles' "White Album," Marvin Gaye's achingly personal Here My Dear, Elton John's melodic pop opus Goodbye Yellow Brick Road—none of those great albums achieve the kind of balance in creative scope, musical variety and consistent listenability that Stevie Wonder captures so masterfully on his magnificent Songs In the Key of Life."
- Stereo ' Big Beat' Williams
Stevie Wonder performs in Harlem, New York in 1976
'Saturn' - Stevie Wonder / 'Saturns Pattern' - Paul Weller
..


'Journey Through "The Secret Life of Plants"' (Soundtrack Released: October 1979 \ Label: Tamla)
"The most problematic aspect of this album is the way it's been presented: as Stevie Wonder's first major studio release since Songs in the Key of Life in 1976. Well, yes and no. Most of the music here is from the soundtrack for a three-year-old film, The Secret Life of Plants, which was, in turn, based on a best-selling book.
As movie music, the LP succeeds, sometimes to mesmerizing effect. The entire first side, for example, coheres as a musical-botanical Talking Book of Genesis. The opening cut is called "Earth's Creation," and for once such a presumptuous title doesn't overreach. Out of a cool, primordial silence emerge the wet, squeaky sounds of seeds thrusting up and out, like one of those Walt Disney nature documentaries in which stop-action photography shows a tulip blossoming in seconds.
Stevie Wonder creates sounds that are impossible to identify: the high, wafting trills that float through Journey through the Secret Life of Plants' four sides might have been made by synthesizers, a string section, clarinets, any combination of these or none at all. Wonder's technical mastery (he produced the disc and plays almost every instrument) works well in the service of the all-suggestive mysticism at the center of both the film's subject (plants' secret lives as a key to human knowledge) and his own career.
But Wonder is caught in a dilemma. He's too passionate to follow fully the old adage that good movie music stays in the background, repeats itself and guides the observer from scene to scene in an unobtrusive, reassuring manner. Sometimes he will and sometimes he won't."
- Ken Tucker, Rolling Stone

'Other surprise to Hawkwind's "Levitation": The album was recorded digitally. This was back in 1980, digital recording was still in its infancy, Stevie Wonder (starting with "The Secret Life of Plants"), Ry Cooder ("Bop Till you Drop"), and a little known Canadian prog act named TRUE MYTH were all recording digitally around this time, and HAWKWIND were obvious early newcomers to this technology. That gives "Levitation" a clean sound, but at least it doesn't have that synthetic and sterile sound that you might come across with too many digital recordings a few years later (specifically the mid-1980s and onward), no big '80s drum sounds, no synthetic-sounding synthesizers here. And at least Tim Blake was still using his old Mini Moog and Synth "A" synthesizers, plus a polyphonic synth (which I believe he also used on Blake's New Jerusalem). So what you have, thankfully, is HAWKWIND still remaining true to themselves, although this one is a bit more song-oriented than they often do, making it one of their more accessible albums.'
- Prog Archives
Lady Gaga & Stevie Wonder