Post by petrolino on May 24, 2019 22:27:45 GMT
Lady Gaga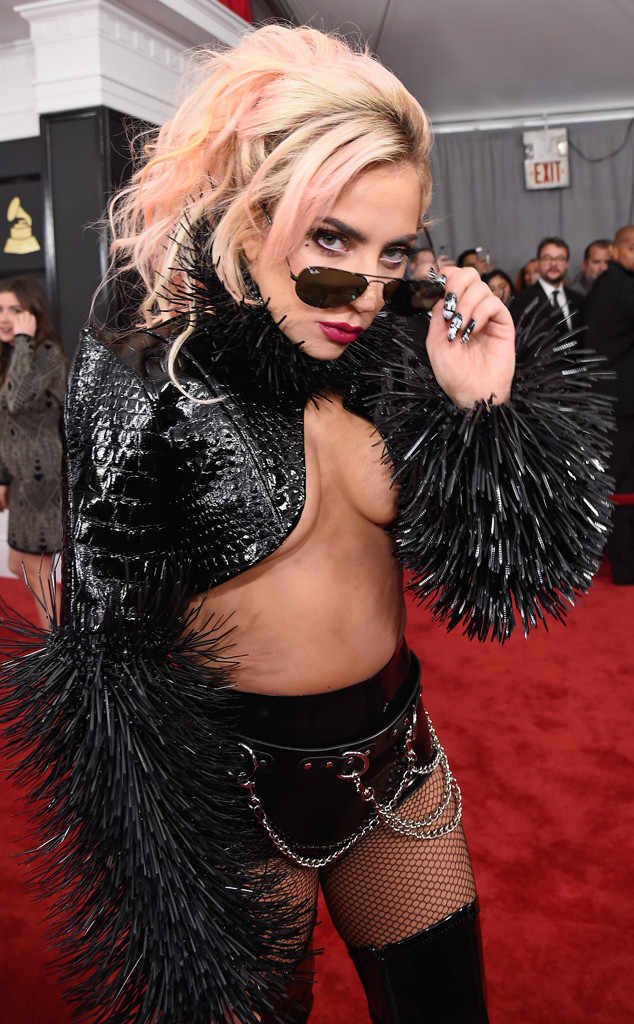 'Disco Heaven'
New Project

Singer-songwriter \ multi-instrumentalist Lady Gaga performed in the SG Band in her early days, collaborated with Grandmaster Melle Mel and Lady Starlight, and worked as a professional songwriter. She was honoured as a Style Icon by the Council of Fashion Designers in 2011. She was the recipient of the inaugural Contemporary Icon Award at the Songwriters Hall of Fame on June 19, 2015. She turned 33 on March 28, 2019.

Gaga turbo-charged her solo career in 2008 with the release of the hit dancefloor anthem 'Just Dance' (2008) and her ensuing debut album became a top seller. She's released three more studio albums since. She's also cut the record 'Cheek To Cheek' (September 19, 2014) which compiles jazz standards she's recorded with crooner Tony Bennett, and the soundtrack 'A Star Is Born' (October 5, 2018) which showcases music composed for the fourth screen version of a 1937 film whose story & screenplay were the work of Alan Campbell, Robert Carson, Dorothy Parker and original director William Wellman.

Lady Gaga is currently working on her next studio album.

"Lollapalooza transitioned into a yearly festival in 2005, regularly drawing 100,000 people to Chicago's Grant Park over a weekend. In 2007, an unknown performer named Lady Gaga played the tiny BMI stage in the afternoon. When she came back to headline three years later, she added a tiny surprise set for stunned fans.
"She was wearing this see-through body stocking, and she started diving into the crowd," says Perry Farrell. "They started ripping at her body stocking, ripping at her hair, her ears, but she loved it. Every once in a while I'll look at the YouTube video. Not many things can make me laugh for a good hour."

- Andy Greene, Rolling Stone

"Nowadays, a bunch of businessmen get together and look for a girl who's basically Burlesque. Having said that, I do like Lady Gaga. But it still is much more limited now."

- Tina Weymouth, Inklings News

"I see all the guys playing those old songs. Let these guys know, like Lady Gaga, let me come in, just let me come in and pay me if you like it."
- Sly Stone, The New York Post
"#LadyGaga Gaga Goo."

- George Clinton, Twitter

'M'Lady' - Sly & The Family Stone

'The Fame' (August 19, 2008) / 'The Fame Monster' (November 18, 2009)
'Just Dance' - Lady Gaga

"Prior to The Fame, Gaga was languishing in New York's Lower East Side as just another hopeful. The Manhattan-born Stefani Germanotta dropped out of NYU, where she studied music and would perform piano ballads at the legendary, nearby Bitter End. She embedded herself in the club scene, launching Lady Gaga and the Starlight Revue with Lady Starlight. The pair's pop-burlesque show paid tribute to the Seventies and helped to mold Gaga's onstage persona, the same one the world would meet in a few years' time.
"I suppose that's where the vanity of the album came from," Gaga continued in her RS interview. "I operate from a place of delusion — that's what The Fame is all about." Gaga also admitted to the pernicious habits that mingled with her self-professed narcissism and artistic perfectionism. She recalled that after leaving college she would spend hours in front of a mirror in her tiny downtown apartment, high on cocaine, practicing her hair and makeup until she felt like a star.
Fame and the results of its pursuit are at the center of the album. These were ambitious themes from someone who was a musical unknown until the single "Just Dance" and an accompanying video helmed by Melina Matsoukas (Lemonade, Insecure) took over the charts, eventually making it to Number One in the U.S. and five other countries. On the title track, she proposes the album's thesis: "I can't help myself/I'm addicted to a life of material/It's some kind of joke/I'm obsessively opposed to the typical." It was aspirational pop with songs that sounded as luxurious as she wanted to be (though later albums like Born This Way and Joanne thrived on her returning to the grittier roots of her past). Gaga used star power, the desire for it and her lack of it at the time while also using fame itself as metaphors for love, sex and her identity.
This approach is most effective on "Paparazzi," maybe the album's most underrated moment of lyrical brilliance. She becomes the paparazzi in question when it comes to the obsessive, immersive love she has for the man at the center of the song. It's a classic pop tale of toxic love: bad romance — something she's proven time and time again to know a thing or two about — served on a diamond-encrusted silver platter.
A pop weirdo's wishful thinking transforming into inescapable reality would become one of the 21st century's greatest Cinderella stories. For years, the name Lady Gaga became synonymous with the word "pop" because songs like "LoveGame," "Poker Face" and "Just Dance" were not only platinum-selling megahits, but also pieces of music and art that challenged the way we thought pop could look, act and sound. Talk of disco sticks, metaphors for bisexuality and hypnotic club tales were worlds away from the virginal bubblegum of the late Nineties and built upon the proto-EDM of the year's biggest hits (Flo Rida's "Low" was 2008's longest-running Number One). Even the way Lady Gaga dressed, forsaking conventionally "pretty pop princess" trends for high-fashion concepts, shifted the music world's idea of what "sexy" could even be."
- Brittany Spanos, Rolling Stone
"I think that Lady Gaga is so different and she has taken the world by storm. I enjoy her music. So I think that she's unique, unique always has a chance."

- Smokey Robinson, Grammy Nominations Concert

"I admire Gaga. She's very talented and wise, that girl."

- Neil Sedaka, Israel Is The Homeland

"The minute I heard Lady Gaga, I knew. 'Paparazzi' -- it's great. I love it. I love all that pouting she does. She sounds like Betty Boop on there. You get the opportunity to have the gift. You should be sharing that and making people's lives better."

- Pat Benatar, ABC News

"Does anyone think global warming is a good thing? I love Lady Gaga. I think she's a really interesting artist."

- Britney Spears, Twitter

"Oh, he [Kurt Cobain] would love Lady Gaga. She writes her own songs, is an artisan in the line of Desmond Child, an artist! God bless her."

- Krist Novoselic, Army Gaga

'Paparazzi' - Lady Gaga
'Born This Way' (May 23, 2011)
"Five years ago, Lady Gaga released her second album Born This Way, one of the highest-selling albums in musical history. The album's success shouldn't be surprising considering that, at that point, Gaga was in the middle of an imperial reign over pop music: her debut The Fame (filled with self-described 'soulless electronic pop') had sold over 10,000,000 copies worldwide, the single "Bad Romance" was at the time the most watched music video in YouTube history, and a blockbuster collaboration with Beyoncé had cemented her star credentials. So, when Gaga tweeted the announcement of her new album on New Year's Day 2011 alongside a monochrome teaser image lensed by Nick Knight, it seemed that nothing could go wrong. Instead, Born This Way is today remembered by critics to be a misstep in Gaga's career, and the start of a downward descent that she's still yet to fully recover from. Yet listening back half a decade later, it's clear that the album is Lady Gaga's most ambitious musical project to date, as well as a poignant reminder of the media's power to create and subsequently break down an artist's reputation.
The campaign kicked off with industrial techno banger "Born This Way", a powerful self-acceptance anthem that caused a stir with its deliberately literal lyrics. Nowadays, in a world where Hari Nef walks the runway at Gucci and Laverne Cox remains a beacon of hope for trans women of colour worldwide, the inclusion of the word 'transgender' in a pop song may not seem so controversial. Things were, however, different in 2011. Despite being an advocate for gay rights since the beginning of her career, "Born This Way"s trans lyric was seen as a mainstream artist deliberately painting herself into a niche. She also faced somewhat of a backlash from her gay fans and spoke in retrospect, namely at 2014's SXSW, about how her label argued she'd become 'too gay'. Ironically, "Born This Way" also soured relations with another gay icon, Madonna, who famously branded Gaga's music 'reductive' after eagle-eyed listeners drew comparisons between the hit and Madonna's "Express Yourself".
Problems persisted in the build-up to the album's eventual release date. The human-motorcycle cover was branded a joke by fans and critics alike, despite visually encapsulating the fusion of flesh and metal that defines the album soundscape. The Catholic-baiting "Judas" video was similarly divisive, while its Easter Sunday release date sparking accusations of shock tactics. Again, the old argument of 'style before substance' reared its head but, this time, it seemed to personally affect Gaga, leading to the star breaking down in frustration in a famous NME interview. The final straw came the week after the album's release, when press outlets worldwide seemed to solely attribute the album's astronomical first-week sales to a deal with Amazon which saw the LP sold at just 99p. Of course, things are different now – platforms such as Tidal and Spotify have added a new ambiguity to chart rankings, making them less headline-worthy than ever before.
Lyrically, Born This Way's themes range from government corruption and gay marriage to to "Heavy Metal Lover"s brilliantly filthy opener "I want your whisky mouth all over my blonde south". Elsewhere, the anthemic chorus of "Hair" is underpinned by a metaphor that likens creative freedom to a good weave, whereas "Scheiße" contrasts off-kilter feminist lyrics with a spoken-word German bridge that literally translates as nonsense. Sonically, the album begins with church bells and soon descends into experimentation with glam rock, heavy metal, honky-tonk country and mariachi-tinged techno. It seemed that the artist formerly branded superficial and disingenuous was on a one-woman mission to smear her soul onto a metallic canvas; the results proved that Gaga could be sleazy, unhinged, and downright brilliant when she set out to be. Yet, no matter how celebrated the work was as a whole, it seemed nobody could shake the lack of a "Bad Romance"-sized hit. One SLANT review lamented the lack of huge pop choruses ("what's a pop song without a good hook?"), whereas the general fan consensus was that a string of poorly-selected singles had alienated fans.
Five years later, Born This Way can be seen as the first introduction of the negative stigma that lingered with the star until and after the release of her subsequent album, ARTPOP. The press were particularly brutal in 2014 – writers and editors worldwide penned op-eds with names like "Drowning, not Waving: The Slow and Bitter End of Lady Gaga's Career" and "Lady Gaga was the Biggest Pop Star in the World: What Happened?" After she fractured her hip on the Born This Way Ball tour, Gaga began to slowly live out a career demise that she had predicted herself in the epic seven-minute "Paparazzi" video just a few years earlier."
- Jake Hall, Dazed
"My thoughts are great about her. She's an innovator. She has some things she's leaning on. She saw LaBelle back in the day, she saw Madonna. She's not embarrassed to say those things. For her to be dressing like she does, I think it's necessary to see somebody outrageous who's talented. Her piano playing is phenomenal. She's a phenomenal entertainer. She's not afraid to make mistakes. She's not afraid to make you happy. I love her! Go, Gaga!"

- Patti LaBelle, Pittsburgh Post-Gazette

"She's like a meteor that just came from outer space and landed on the Pop landscape and just blew dust in everyone's face. And I think it's amazing....I think she's exceptionally talented, she's a force to be reckoned with. I'm a great admirer."

- Kylie Minogue, Access Hollywood

"I think it's great. It's just wonderful. I love her. Maybe we should do something together - GooGoo and Gaga!. You know those GooGoo candy bars in Nashville? I could be Lady GooGoo."

- Dolly Parton reacts to hearing Lady Gaga's new release 'Born This Way (The Country Road Version)', Sounds Like Nashville

"I'll be damned. Who knew? Lady Gaga was just a child and I started her industry. Well, I think she's great. I love the fashion jokes she makes — with her shoulder blade sticking out like a model with anorexia — and I like her songs. The scene in general... I hear stuff that's good. I couldn't name a lot of names, but when I listen to satellite stations with new music, they'll play three or four things in a row that are good. That's pretty amazing because it's not always the case."

- Randy Newman, The Huffington Post

"I kind of see her as a female Alice Cooper. What she does on stage is basically the same thing Alice Cooper does. I write the songs for a character. I play the character -- you know, I sort of direct the whole thing. And that's exactly what she does. When we first met, we kind of really clicked together as friends because we're both in the same business.
My normal Frankenstein, we decided to dress that character up as Lady Gaga -- a 14-foot Lady Gaga, She loved it. She saw it and e-mailed us back and said she loved it."

- Alice Cooper, Ultimate Classic Rock

"Do I like what? Lady Gaga? Oh, yes [laughs]. Yes, she's great. She's crazy. I love her."

- Johnny Hallyday, The Guardian

"I love Gaga and have a lot of respect for her. She came around at a time when we all needed something like her. She was fun but she brought a little bit of much-needed art-school pretension to what had become a little like watching auditions for Broadway."

- Shirley Manson, Vanity Fair

John Lydon on Lady Gaga
'Artpop' (November 6, 2013)
"Only Lady Gaga can record an album inspired by Greek and Roman mythology, Orwellian ideals, feminism, sex, and substance abuse, roll it all together and put out what is arguably one of the 2013's very best albums of the year. Artpop is more than just a dance album; it is a pop music masterpiece with some of the very best work of Lady Gaga's career. For anyone who believes pop is dead, it's cookie-cutter music at best needs to sit in a room and really listen to the songwriting genius that is captured on Artpop. Though it's hardly flawless by any means, Artpop is onto something here with a rich eclectic mix of industrial, Hip-Hop, techno, trance, electronica . . . a great departure from Gaga's more rock influenced Born This Way. Track by track the musical styles do go all over the place, going from the very industrial sounding opener "Aura" to the spacey follow-up "Venus." Both tracks will not only grab you but you'll be completely blown away by their lyrics. From "Do you wanna see me naked, lover? Do you wanna peek underneath the cover? Do you wanna see the girl who lives behind the Aura," to "When you touch me I die, just a little inside. I wonder if this could be love, this could be love. 'Cuz you're out of the world, galaxy space and time. I wonder if this could be love. Venus," this is just the beginning of an incredible musical ride on Artpop."
- Rob Perez, The Music Universe
"You know that art and pop have truly collided when Jeff Koons appears on MTV. For a video interview titled "Jeff Koons's New Muse Lady Gaga," the visual artist talked to MTV about how he came to work with Lady Gaga.
Jeff Koons has been collaborating with Lady Gaga since the release of her album cover of ARTPOP, which the artist designed. He also worked with Gaga to create a logo for USA Today. Tonight, Lady Gaga revealed sculptures by Koons at a party called ArtRave."
- Leigh Silver, Complex

"There's an awful lot of talent there. We see the gimmick part of it. I think Lady Gaga is talented."

- Frankie Valli, 'Proud To Be A Jersey Boy'

"She must be as weird as a snake's suspenders."

- David Crosby, Something Else!

"I go onstage for three hours, four days a week and have lost about 10 pounds in the last couple of months. The Lady Gaga song 'Do What U Want' makes me want to dance and made me revise the hustle. My girlfriends and I used to do this dance at clubs 30 years ago. Now it's a great way to exercise."

- Stevie Nicks, People

"Grace Slick requested for Stevie Nicks or Lady Gaga to stand in for her for the 50th anniversary concert performance."

- Julius Bradford, 'Jefferson Airplane Turns 50'

Bruce Dickinson on Lady Gaga
'Joanne' (October 21, 2016)

"It is axiomatic that pop stars will reinvent themselves, particularly when an album like 2013's high-concept Artpop failed to connect as Gaga's previous albums had. With this fifth album, Joanne (2016), Gaga stripped back the layers, both visually and aurally, offering up a less processed iteration of the now 31-year-old singer, a trajectory towards the "real" that included last autumn's riveting Netflix documentary, Five Foot Two.
As Gaga tells it on stage tonight, in one of many spoken segments, producer Mark Ronson asked the singer what theme she would choose for an album if she could only make one more, and she replied: "Joanne". Joanne was Gaga's aunt who died in 1974, aged 19, of the autoimmune disease lupus, a loss that scarred the Germanotta family indelibly, Gaga's father in particular. Five Foot Two bore witness to the making of Joanne-the-album, and Gaga's own struggle with injury and chronic fibromyalgic pain (the reason this tour was rescheduled). Joanne had fewer concepts, and more guitars and piano ballads; Gaga wore cut-off denim shorts rather than the pelts of discarded Kermit the Frogs. A load of rumoured new songs with RedOne – the producer of many of her most memorable hits – were left off the record."
- Kitty Empire, The Guardian
"I'd like to get Lady Gaga really high or slightly drunk and try to find out what's going on in there...note to self."

- David Crosby, 'Crosby, Stills, Nash & Gaga'

"Music has just become way too commercial these days and record companies simply don't develop artistic talent anymore. There are a few that are good, like Lady Gaga, but most of them don't have any originality to them."

- Belinda Carlisle, Billboard

"I've had shout-outs from Lady Gaga even, which I think is pretty cool. It's just great to see that there's nothing women can't do. Women are getting absolutely everything that – not only they deserve – but are extraordinarily good at."

- Cherie Currie, AAA Backstage
"Lady Gaga has spoken before about the inspiration she's found in the late rockstar, David Bowie (she even performed a tribute to him at the 2016 Grammys). And, on her mantel, she has a framed letter from him that simply and inexplicably reads: "Dear Lady, Unfortunately I will not be in NYC for a few months but many thanks for the cake."

- Jonathan Van Meter, Vogue
"We need the younger generation. People like me, Jackson [Browne] and Bonnie [Raitt], we've been doing benefits for 40 years and we need the younger generation, particularly people like Lady Gaga, with what's she got, 80 million people following her on Instagram or Facebook? We need those people that have incredible followings to be able to take a stand and bring information to their followers."

- Graham Nash, Variety

'The Edge Of Glory' ~ Lady Gaga