Post by DebLovesBeccy on Jun 2, 2019 12:18:22 GMT
Great news everybody!! We won't have to wait much longer for the 'Supergirl' movie. I have to say out of all the upcoming DC movies this and 'Batgirl' are the two I am looking forward to seeing the most as longtime fans of the characters and it will be interesting to see a proper adaption that is more in line with the comic books whether it is with Kara Zor-El and Linda Danvers as the lead 'cause as most of you know the show bares very little resemblance to the comic books outside using the names of the characters and you could call it the worst TV adaption of a comic book ever made if you compare it as a true adaption and with this movie we finally have a chance to have an adaption that is more like the comic books and as for who should play Supergirl my pick goes to the adorable, Sydney Sweeney.



I don't think there is another actress who is more perfectly suited to the role right now and as one of the major magazines in America Sydney is the "hottest young actress in Hollywood" and "is going to become a household name" and not only is she a great actress but she is trained in martial arts and won MMA tournaments against men and women and look at that smile below.
Supergirl Movie Targeting 2020 Start of Production
We could be getting a Supergirl movie a little sooner than previously expected. We first learned that Warner Bros. was looking to bring a new version of Superman's cousin to the big screen in August 2018. However, DC Films has had a ton of various projects in development and since the studio hasn't been announcing their full lineup of movies, it's been tough to know which projects were going to be moving forward and when. But now we have word that Supergirl may begin filming early next year.
It was recently revealed via several reports that Robert Pattinson is going to be our new Batman. Buried within one of those reports came a little update on Supergirl. Apparently, the plan as of right now is for the movie to go into production in the first quarter of 2020, assuming everything goes according to plan, and assuming that the plan isn't altered between now and then. Interestingly enough, it's also expected that The Batman will enter production in early 2020, meaning both of these movies could be filming at or around the same time.
Last we heard, Oren Uziel had been hired to pen the screenplay for Supergirl by Warner Bros. his previous credits include The Cloverfield Paradox, 22 Jump Street and the upcoming Sonic The Hedgehog movie. No director, as far as we know, has been attached to the project yet, nor has anyone been cast in the lead role as Kara Zor-El. Should this production information prove true, we should be hearing more regarding casting in the very near future, as well as some frontrunners for the directing gig. Meanwhile, Henry Cavill's future as Superman remains in doubt. For now, there appears to be no plans to give the Man of Steel another solo movie and Cavill has since moved on to other projects. So perhaps that is paving the way for this Supergirl movie to become a priority?
Another very interesting wrinkle to this whole thing has to do with the SupergirlTV series that is currently airing on The CW. Melissa Benoist plays that character on the show, but Warner Bros. has been keeping the TV and movie universes separated up to this point. That's why Grant Gustin, who plays the character on The Flash, didn't show up in Justice League. Instead, it was Ezra Miller. Though, it's worth noting that we've heard in the past the studio would prefer to avoid having repeat versions of the same character going at the same time. So does that mean Supergirl could possibly end with season 5 on The CW? That's purely speculative, but it's something to consider.
For now, what we know for sure is the Joaquin Phoenix standalone Joker movie, which isn't connected to the DCEU, is set to arrive in October. The Harley Quinn spin-off Birds of Prey and Wonder Woman 1984 are both on deck for 2020. The following year will see both The Batman and The Suicide Squad hit theaters. This news was previously reported by Forbes.
movieweb.com/supergirl-movie-production-start-2020/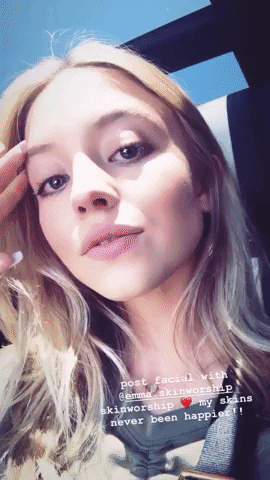 www.instagram.com/sydney_sweeney/?hl=en