Post by mikef6 on Jul 6, 2019 4:43:35 GMT
Veronica Mars, Season 1, 22 weekly episodes (Sept 22, 2004-May 10, 2005).
Veronica Mars, Season 2, 22 weekly episodes (Sept 28, 2005-May 9, 2006).
Veronica Mars, Season 3, 20 weekly episodes (Oct 3, 2006-May 22, 2007).
Veronica Mars (Kristen Bell) may be a high school senior who works as a private eye but this is a million miles from Nancy Drew as Veronica's hard-boiled voice-over immediately signals. Veronica lives in the fictional SoCal city of Neptune, a divided town. The side of town whose zip code ends in 09 (the oh-niners) are the richest of the rich. Veronica was from the other side of town – her father was the county sheriff – but she dated Duncan Kane, son of a billionaire software developer and was best friends with Duncan's sister, Lily Kane (Amanda Seyfried). All that changed when Lily was murdered, Sheriff Mars accused Lily's father and was subsequently removed from office in a recall election. Veronica suddenly found herself a pariah in the school hallways ("The people who say high school years are the best years of your life are usually on the yearbook staff"), but enjoying working with her father, now the owner of a private investigations business. There is usually a stand-alone mystery in each episode, plus a season long mystery arc, plus some story lines that may arc over two or three episodes. IOW, the only entry point into "Veronica Mars" is season one, episode one (well, perhaps the start of season two also). It may have been a little ahead of its time in this regard. If you take a look at the series' ratings and viewership you will find a remarkable consistency over the three seasons – the sure sign of a dedicated cult audience. Watch for pre-star Jessica Chastain in a first season episode. Tessa Thompson and Kristen Ritter are cast regulars during year two. Well known fans include Stephen King ("Nancy Drew meets Philip Marlowe, and the result is pure nitro"), Kevin Smith (""hands-down, the best show on television right now," 2nd season cameo), and Joss Whedon ("Best. Show. Ever. Seriously"). I loved it. Check it out.
First season cast
The bus in the background will explode just down the road killing all on board. Was Veronica supposed to be on it? This is the start of the full season 2 mystery arc.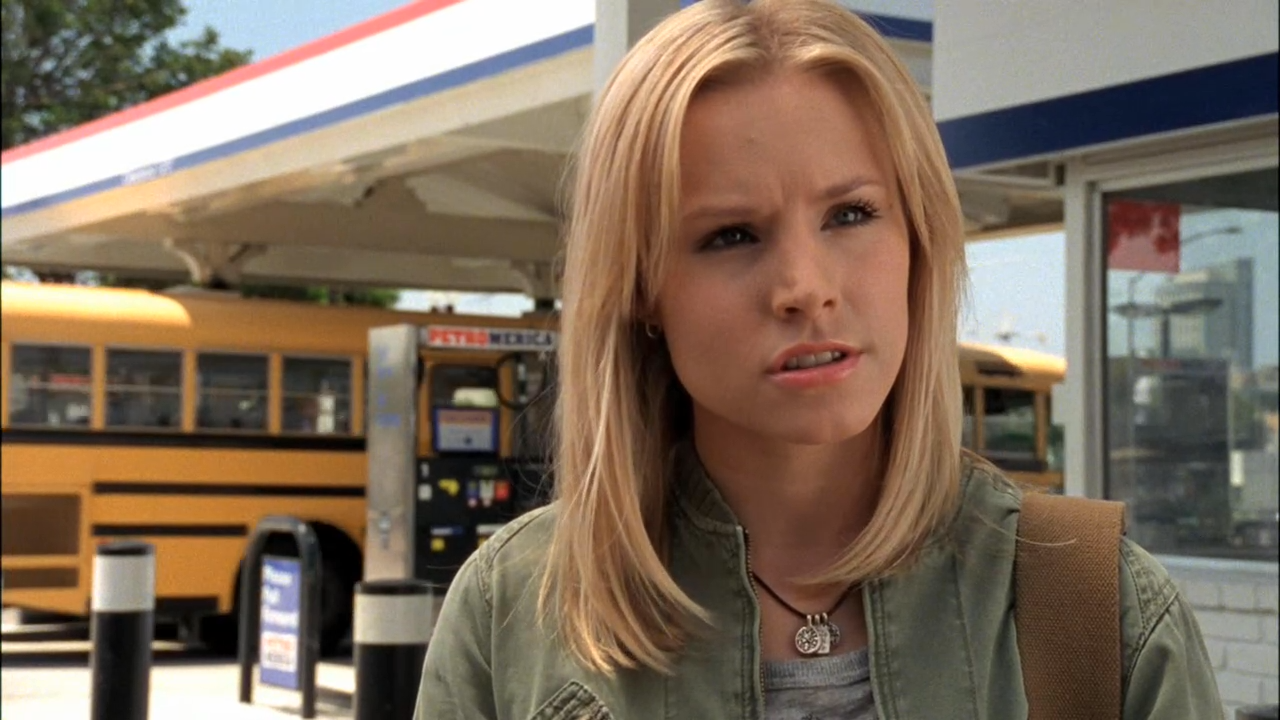 Veronica Mars / Rob Thomas (2014)
. Warner Bros. Warner was convinced to back this theatrical release after a Kickstarter campaign raised $2 million in 11 hours from the show's dedicated fans. It is now nine years after the close of the TV series so the movie picks up the characters that far along in their lives. Veronica is in NYC about to pass her bar exams and pick up a prestigious position in a prominent law firm. But she is drawn back to Neptune for her 10th high school reunion where her former unreliable boyfriend is under arrest for murder. A code of silence as well as a cadre of corrupt cops hinder her investigation. The movie is basically an expanded TV episode but any Veronica is better than no Veronica. The film is almost understandable without knowledge of the previous three seasons on TV. Cult TV at its finest.