Post by mikef6 on Sept 11, 2022 14:47:34 GMT
Miyamoto Musashi (Samurai I: Musashi Miyamoto) / Hiroshi Inagaki (1954).
Immediately after finishing "The Seven Samurai" for Kurosawa, Toshirô Mifune went into this project with Inagaki. The historical person of Miyamoto Musashi was a popular film subject in Japan. Perhaps hundreds of films about his life had already been made. Mifune biographer Stuart Galbraith IV says that a film about Musashi was sort of like one of Robin Hood or Wyatt Earp in the western world. Inagaki, himself, had directed a trilogy in black and white during the war years. Those films were confiscated by the U.S. Occupying Force and presumably destroyed because they have not been heard of since. This new beginning by Inagaki, in color with Japan's number one star, is a remake the lost trilogy. Although this script takes many liberties (as I understand it) with both the historical record and the novel on which it is based. This first chapter of three tells of Musashi's young manhood and his desire to become a Samurai. But to the people of his village he is just a troublemaker. A brawler. This puts him on the run throughout the second half.
For the first nine years of the Academy Award for Best Foreign Language Film, the award was not competitive. An Academy committee chose the winner(s). During that time, three Japanese films got the Honorary Award. "Rashomon," "Gate Of Hell," and "Miyamoto Musashi." That makes "Samurai I" one of the main films that put Japan on the Western world map as a major film industry in the early 1950s.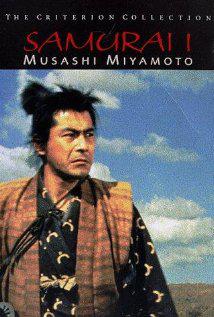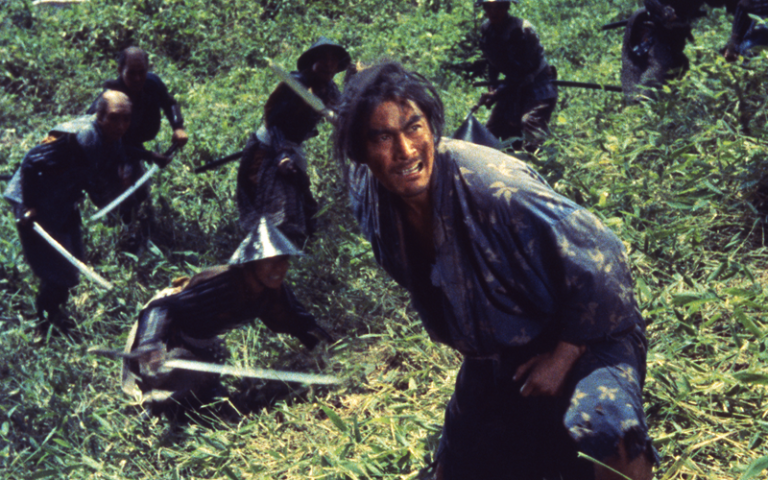 Zoku Miyamoto Musashi: Ichijôji No Kettô (Samurai II: Duel At Ichijoji Temple / Hiroshi Inagaki (1955)
. The second in the Samurai Trilogy takes place five years after the close of chapter one. Takeso (Toshirô Mifune), now known as Musashi Miyamoto, is still traveling the countryside in training and trying to learn how to be a Samurai. After fighting a duel with an experienced martial artist and killing the man, Takeso meets an elderly man on the road who compliments him on his swordsmanship. "You are a strong man," he says, "But to be a Samurai, sometimes you have to be not so strong." Meanwhile, his true love, Otsu (Kaoru Yachigusa) is selling fans on a busy bridge leading into Kiyoto, hoping to see Takeso. In Kiyoto, Takeso gets involved with trainees at a school for sword training which causes a feud. Also, he meets Kojiro Sasaki (Kôji Tsuruta), an ambitious but skillful and full-of-himself young Samurai like Takeso was not so long ago.
Miyamoto Musashi Kanketsuhen: Kettô Ganryûjima (Samurai III: Duel At Ganryu Island) / Hiroshi Inagaki (1956)
. A few years have passed since the battle that ended the previous episode. Takeso is more settled in his mind, having learned to be "not so strong." He decides to turn his back on a wandering life and settle in a rural village where, shades of "The Seven Samurai", the peasants are victims of continual raids by bandits. There is more of an emphasis on Takeso's love life as Otsu and another woman who has been pursuing him, show up at the village. Before leaving Kyoto, he had promised Kojiro Sasaki ((Kôji Tsuruta), the gifted but over-confident young Samurai from Part II, that they would duel in a year. The trilogy ends with that duel. These three films are a very worthwhile experience for those interested in Japanese films and their growth of popularity in the Western World.