Post by teleadm on Sept 23, 2022 22:27:43 GMT
He was not from U.S.A. but a Canadian, so that might be the reason he sometimes passed as English. He worked the long way from musicals in early sound movies, through loosing the girl to other co-star roles, to lead roles and two Oscar nominations under his wings. He reached star status when acting with Greer Garson. As he grew older he moved over to supporting parts way up until 1977. Sometimes he paused his Hollywood career and concentrated on Theatre instead, and television.
This year we celebrate his birth in Saint John, New Brunswick in Canada 125 years ago.
Walter Pidgeon (1897–1984)


He got his formal education at University of New Brunswick studying law and drama, but his education was disrupted by what we now call WWI, though he never was involved in the war he was severely injured during practice, and had to spend seventeen month in a military hospital.
When healed he moved to Boston as a bank teller, and got in contact with Boston theaters since he had the acting bug. An impressario told and recommended him to Broadway, though most of his time there went more or less to nothing, so he went to Hollywood. He made his movie debut in the Alice Joyce vehicle
Mannequin
1926, but discouraged with the roles offered he went back to New York and stared in a few movie musicals or operettas.
Bride of the Regiment
1930 was one of those musicals or operettas. The actress on the left is actually Myrna Loy, and just like Walter hadn't found her movie persona yet.
Thanks to his singing voice. He starred in extravagant early Technicolor musicals, He continued to be in demand in singing roles through the 1930's, before making the transition to dramatic roles. In 1935 he took a break from Hollywood and did a stint on Broadway.
Returning to Hollywood in supporting roles in loosing.the-girl roles,
Saratoga
1937 with Jean Harlow and Clark Gable.
The Girl of the Golden West
1938, rivaling Nelson Eddy in a MacDonald-Eddy operetta is more or less suicide.
As pulp detective Nick Carter in
Nick Carter, Master Detective
1939,
Phantom Raiders
and
Sky Murder
both 1940
Dark Command
1940 with John Wayne publicity pic.
It wasn't until
How Green Was My Valley
1941 he reached star status.
Blossoms in the Dust
1941, first with Greer Garson
Mrs Miniver
1942, a critical and a commercial success, becoming the highest-grossing film of 1942. Earning him a Oscar nomination.
Madame Curie
1943, earned him his second and last Oscar nomination.
Mrs Parkington
1944 the fourth Garson-Pidgeon money maker, a solid love story told in flashbacks.
Having a bit of fun in
Week-End at the Waldorf
1945 with Ginger Rogers, Lana Turner and Van Johnson. A lighter version of "Grand Hotel" by Vicki Baum.
With Greer Garson he also made
Julia Misbehaves
1948,
That Forsythe Woman
1948 and
The Miniver Story
1950, but the pairing was fading.
Standing between Charles Bickford and Clark Gable,
Command Decision
1948 was a solid hit for MGM about strategic bombings in Nazi-Germany during WWII. Unique too that it had an all male cast, without any romance stories that used to be mandatory at the time.
Silver-haired in Vincent Minnelli's hard hitting
The Bad and the Beautiful
1952
Scandal at Scourie
1953 marked the end of the Garson-Pidgeon movies, the ninth and last, Public tastes had changed.
With Barbara Stanwyck in the successful
Executive Suite
1954.
With Robby the Robot in
Forbidden Planet
1956, considered by many to be a milestone in Science-Fiction cinema.
He returned to work on Broadway in the mid-1950's after a 20-year absence. He was featured in Take Me Along with Jackie Gleason and received a Tony Award nomination for the musical play.
Based on Eugene O'Neill's
Ah Wilderness
, it runned for 448 performances on Broadway, 448 was not a bad number in the pre-mega hits of today musicals.
Returning to movies after nearly 6 years,
Voyage to the Bottom of the Sea
1961, seen here with Robert Sterling and Peter Lorre.
Having an argument with Charles Laughton in
Advise and Consent
1962.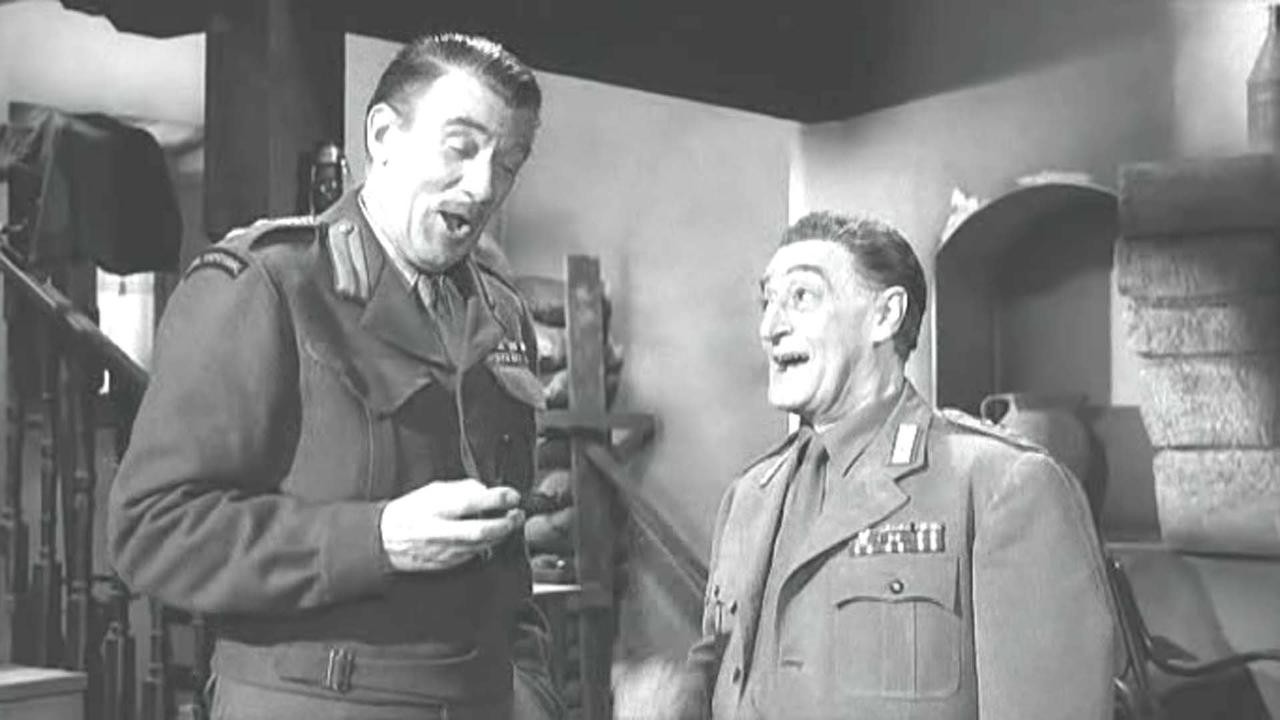 One of the big oddities in his filmography, appearing in an Italian Toto comedy,
I due colonnelli
1963.
Publicity pic with Ginger Rogers of a remake of Rodgers and Hammerstein's
Cinderella
1965 for television.
As Florence Ziegfield in
Funny Girl
1968, a minor but important role.
With Mae West in
Sextette
1977, a huge debacle of a movie, and sadly the last movie with Walter Pidgeon.
Walter Pidgeon appeared in over 135 movies and television productions between 1926 and 1977, so a lot sadly had to be left out in this presentation.
"Maybe it was better never to become red hot. I'd seen performers like that and they never lasted long. Maybe a long glow is the best way. At Metro I was never considered big enough to squire around Norma Shearer or Joan Crawford or Greta Garbo. Well, I outlasted them all at MGM, didn't I? It takes a lot of work to appear easy going and I tried to avoid being stuffy."
Thanks for watching!
Opinions of all kinds are welcome!