Post by Chalice_Of_Evil on Mar 4, 2021 14:12:19 GMT
Season 6, Episode 20/Series Final:
'The Last Act'.
**spoilers below**
Okay, I'm going to attempt to compose my thoughts regarding the last ever episode of the show into something resembling coherent (rather than the incomprehensible mess they were in last night after finishing watching the episode).
**trying to stay calm**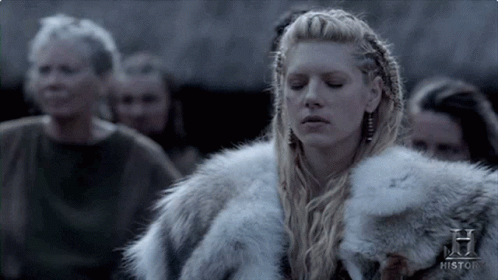 This series final, like this season as a whole, was a major letdown/disappointment. I'm not sure
why
I expected things to improve, after the second half of this season had been especially bad (seriously, it made the first half of Season 6 actually look
good
by comparison...not that I can remember that much of it, though, since it was pretty forgettable, but I don't recall it ticking me off quite as much as this second half did. Plus, Gunnhild was still around in the first half).
The most stupid thing I think I've seen on this show (and that's saying a lot) has got to be Ivar turning into a literal puppet master, seemingly controlling his fellow Vikings in their fighting, making moves that they then made because Ivar couldn't do so himself. Whether it was to be taken literally (Ivar has superpowers now!) or not, it doesn't matter. It was a dumb visual and made no sense. For all the talk of Ivar being 'the greatest Viking who ever lived' and all his fangirls/fanboys heaping praise on him, he really didn't actually
do
much of anything. He made big speeches, yelled and made crazy eyes - that was about it.
Now
was the time his bones decided to fail him and began breaking. When Hvitserk talked about Ivar's blue eyes indicating his bones were going to break, I was like "Huh??". Had we been told this previously or was it just a recent thing added in? I remember Ivar having blue eyes when he was first introduced as a grown-up, but I didn't recall any mentions of the blue eyes indicating bone-breaking. I may have just forgotten, though (since all things Ivar-related tended to bore me).
Ivar managed to kill a few people on the battlefield this episode after mostly staying out of any battles, and the only other time I could recall him fighting in recent memory was when he inexplicably snuck up on Bjorn and put a sword through him at the end of the first half of this season. Speaking of...I guess it was poetic justice that some random guy managed to sneak up on Ivar like he snuck up on Bjorn. Considering that all Ivar was doing was standing around and yelling, I was surprised the guy had to wait for Ivar's go-ahead to kill him rather than just doing it while Ivar was being all theatrical. I had to roll my eyes at seemingly everyone being in awe of Ivar and his over-the-topness. Alfred was bad enough, but Hvitserk saying out loud "One day everyone will know Ivar the Boneless" just caused ultimate eyeroll.
So anyway, Ivar lets the kid stick him with a knife many times (if anyone should've been stabbed multiple times, it should've been Hvitserk, since he did so to Lagertha) and then takes his time dying in the arms of his bro who hated him half the time and 'loved' in the other half while Alfred somehow manages to be heard over all the fighting, telling BOTH sides to stop...and even the Vikings listen to him for some reason. I guess I should take solace in the fact that for all his bravado, Ivar died afraid of what was coming next for him (although Ragnar and Lagertha didn't go down swinging, both accepted their fates and didn't act afraid. With Bjorn...well..it was hard to tell). If I didn't absolutely hate Ivar as a character, I might feel the teensiest bit bad about enjoying his death, but honestly...he got off pretty easily considering all the stuff he did.
As relieved as I was that Ivar FINALLY bit the dust, it was of little comfort considering LAGERTHA'S MURDERER, Hvitserk, was
still breathing
. I have no idea why Alfred showed him mercy, and to top things off he had the name of Athelstan (a character who was actually
interesting
, unlike druggie Viking) bestowed upon him - a name he wasn't the slightest bit worthy of. What's worse, there's even a deleted scene of Alfred inviting Hvitserk to stay with him at the Royal Villa with his family - I hope you're prepared for Hvitserk's sudden but inevitable betrayal, Alfred. Converting Hvitserk to the Christian faith means basically nothing, since he switched sides more times than I can count. Like Ivar, the rat-faced bastard got off too easily.
Someone else who got off easy was the gold-obsessed Viking in Ubbe's storyline who killed the Native American and after being turned back over to Ubbe, was sentenced to a good ol' blood eagling...except he couldn't even keep it together long enough for Ubbe to begin (Yarl Borg would've been scoffing), so Ubbe was like, "I haven't even started yet." and slit his throat instead. Now, was that to grant him mercy or to deny him entry into Valhalla (since the only way of making it into there when being blood eagled was to remain stoic while you had your back hacked open, lungs pulled out and placed upon your shoulders so they resembled folded wings) or a bit of both?
Despite everything else that happened in the episode, I think the thing that frustrated me the most was that INGRID (of all people) got to become Queen of
Catgut
Kattegat. WTF? GUNNHILD should've been Queen, but no, Hirst decided to off her in the most stupid/disrespectful/unceremonious way possible. While I was probably expected to be thinking, "You go, Ingrid!", sadly I
couldn't
on account of not giving two figs about her character (nor the random redhead Viking woman who was at her side. Was that the one who she had off Erik the Red?). That should've been
Gunnhild's
throne, damn it!
My other major annoyance in this final episode was the lack of mentions regarding Lagertha. Both Ragnar and Athelstan got name-drops, but no Lagertha. Unforgivable! I was also surprised Rollo never returned to the show (then again, when the show went to Paris was when I first started losing interest, so it was probably for the best). By the end of this episode, I didn't even care enough to get any enjoyment out of Floki's chat with Ubbe on the beach (this show became more and more guilty of using anachronistic dialogue as seasons went on, and this episode was no different). It was all "Ragnar, Ragnar, Ragnar" and not ONE mention of Lagertha. Hell, they didn't even compare notes on how crappy Kjetill Flatnose was.
Sad to say this series final is right up there with GoT as one of my least favourite series finals ever. It's especially disappointing when you look back on how awesome the show was in the early seasons, how many actually good/likable characters there were and how something as simple as setting sail and navigating using nothing but a sundial and sunstone could be compelling. While this show had some very high highs...it also had a lot of incredibly low lows too - and both can be attributed to Michael Hirst since he wrote every episode. While I'll forever be thankful to him for creating the character of Lagertha (and casting the incomparable Katheryn Winnick in the role), as well as giving us Travis Fimmel as Ragnar (showing he was capable of conveying SO MUCH with nothing but a look), I can also lay the blame for all the crappy character deaths, snooze-worthy/awful storylines (I think Ubbe's seafaring 'adventure' almost rivaled Ragnar's druggie storyline for most mind-numbingly boring storyline EVER on this show) and boosting up of characters who didn't deserve it.
Oh well, at least it's
finally over now
(something I never would've thought during its early seasons). Thankfully, there's always the early seasons to revisit/rewatch. So long,
Vikings
.