Post by Chalice_Of_Evil on Jul 20, 2019 14:14:12 GMT
Bedknobs and Broomsticks (1971).
This Disney movie was ( and still is ) one of my favorites in childhood & early teen years

and my favorite role for actress
Angela Lansbury
too

.
These were also my 2 favorite scenes from this movie

.
One of the many reasons I wouldn't play around with Witchcraft



.
This scene was just too much crazy fun and a catchy song also

.
Thanks so much Chalice_Of_Evil for this wonderful pic selection
and for this awesome movie reminder also

.
I hadn't watched this movie in a VERY long time, but used to watch it quite often when I was a lot younger.
While rewatching it, I was reminded of why I enjoyed it so much. All the memories came flooding back and I was surprised by how much of it I remembered (considering my memory isn't what it used to be). Angela Lansbury and David Tomlinson were both excellent in it, I thought, and (miraculously) the kids in the movie didn't even annoy me that much.
Mary Poppins
(1964) gets a lot of recognition, but I think this film is really good too. They both have sequences which mix live action with animation - I guess that's part of why I thought of the comparison (also, David Tomlinson stars in both).
The two scenes you linked to are two of my favourites as well, mszanadu. 'Port0bello Road' is a song I like, because it's kind of eerie/creepy/sad in a way (until they speed it up later into the sequence, that is). Meanwhile, 'Substitutiary Locomotion' is just plain fun - as is the whole movie, really.
And, honestly, how can you
not
enjoy seeing suits of armour kicking Nazi butt (quite
literally
, in some cases)?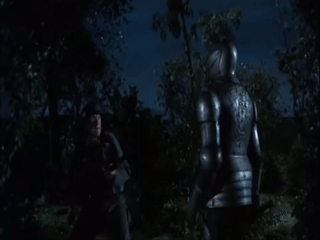 You're most welcome Chalice_Of_Evil

and thanks so much for this link

to your other forum thread here too
I will definitely be checking this one out


.
I do agree with you here on the music for this TV Movie
( although the music was quality - IMPO )

it does seem a bit out of place and almost ( but not completely )

makes the TV Movie seem somewhat silly - even though it's not a comedy in the least

.
The categories for this TV Movie and the Mini Series

are down as " Docudrama - Slasher - Mystery & Biopic " also

.
According to the Wikipedia page for this TV Movie it states -

" Ricci has described the film and its follow-up as being "self-aware, campy, and tongue-in-cheek". "

So perhaps it can be in the category for dark humor in certain moments as well

?
If you did enjoy the TV Movie I know you may find

the Mini Series quite intriguing also ( I know I really did !!

) .
I only wish that the channel LIFETIME would show this

entire TV Movie & Mini Series over again as a marathon

because I haven't seen it since it was new back in 2014 & 2015

( IMPO - that would be awesome ! )

.
I picked up my
Lizzie Borden Chronicles Collection
DVDs today and shall get to watching them as soon as I find the time in amongst all my other TV show/movie watching.