Post by Waxer-n-boil on Apr 17, 2018 19:02:17 GMT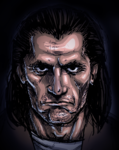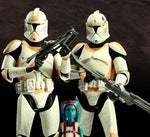 They did write her as a Force User, just not the tagalong bumbling sidekick of Lukes that the OT fans wanted her to be.
No they didn't. Compare Rey's powers and it's nature and usage to both the Force and to Disney magic. You will find it's much closer to Disney magic than the Force.
In other words... a load of bull excuses.
More like, they were lucky Carol wasn't an A-Lister so they could get away with it. Most people didn't even realize Kamala was a Legacy character to begin with.
Like I said, passing the torch has been done before.
Not with top-tier characters.
Bull crap! You've been whining about them, alleging they ruined the franchise of SW.
Nearly, but compared to the over-the-top hatred the ST gets it ain't much of anything.
That's an absolute lie. Prequel haters have been so over-the-top that they sent death threats to George Lucas and Jake Lloyd. Some of them made a living off of hypercriticism of the prequels. Mr. Plinkett being the most notable.
Nope. They shared the spotlight. Fact.
They most certainly did not.
Yes they did. The fact that you don't know what sharing the spotlight is is your fault. I'm not responsible for your comprehension problems.
Darned right. Which is far more credible than you and your mountain of posting history lies.
No, I posted that thread about "What do you Hate the most about the ST?" and you haven't posted anything about people who like the ST as a counter.[/quote]
That's because aside from Rey fanatics screaming about how she is an untouchable, infallible character - and absurdly trying to use the SW lore and mythos to do it - there's been little else of substance.
That, and the occasional "Finn being a stooge and an elite Stormtrooper makes perfect sense!" Or "Kylo is not a Vader wannabe. He is a complex and conflicted character." Granted Adam Driver's acting is probably better than Hayden's, but the character acts like whiny, Darkside Anakin 2.0.
Another lie! It never got any poor reception.
Uh, no. It was getting ripped to shreds from opening night.
Nope! People were asking for the meaning or how that would work. The only criticism was some people wanting immediate supposition, while others debated about what the future supposition and meaning would be... a future that never came.
I can only shake my head at your back-peddling, flip-flopping, and excuse making.
I Luke had been dead at the time that novel came out, it would've ended up pulped.[/quote]
Disney had the same opportunity to do the same thing in their rewrites.
No, the mythos ended with ROTJ. So there was no way to harmonize with what came before.
If the mythos ends with ROTJ then that makes the sequel trilogy a reboot! But Disney has emphatically said that it is not.
This is what I mean by
purposely
ruining the mythos and lore of the previous SW.
And before you disagree, this same issue popped when Sony did the Andrew Garfield Spider-Man after the established onscreen canon of the Toby McGuire Spider-Man. Sony came out to the fanbase and told them it was a reboot.
But Disney just wanted to lie... (Hmmmm... you and Disney have a lot in common). They wanted to do a universe reboot but sucker OT fans out of their box office money by shoehorning in the OT characters. Then to rub salt in the wound, they gave them degrading characterizations in varying degrees to hi-light their own characters by contrast.
Nope. You make something different according to the rules of what it's built on. Simple...
There's nothing to build on after ROTJ if you want new conflicts where things don't end happily ever after for the OT cast.
Of course there is. It's been done in the EU: Palpatine clones, the Yuuzhan Vong... just to name a few.
Stop babbling that narrow minded, lying nonsense.
...which is STILL a blatant lie you haven't proven.
The reception Rey is all the proof I need. NOTHING is good enough to appease her haters.
Don't be a warrior princess channeling Disney magic. This is SW, not your latest Disney heroine animated movie!
#Because it meets the definition of fanfic under any franchise or genre. Fact.
Because they chose to make stories about new characters who weren't constantly overshadowed by Luke and the OT cast. And they chose not to make these new characters bumbling incompetents who need to be spoonfed everything by Luke and co.
OT fans just can't stand that.
OT fans who can't move on past ROTJ is silly, yes.
Killing off major characters is not evidence of continuing a mythos. It has nothing to do with it.
The OT cats weren't going to be around forever, deal with it.
Not changing the laws and nature of it's universe is how you properly continue a mythos.
They didn't fundamentally change anything, they just chose to not leave ROTJ as a Happily Ever After. And any continuation past ROTJ with new characters who were independent characters instead of bumbling sidekicks was going to violate the Mythos by your standards.
Please! Spare me of parroting that lie that OT fans were predetermined to hate these new characters.
They were fine with them as long as they assumed they were going to be bumbling incompetent sidekicks.
So... it's better than doing something that they knew would piss off OT and other SW fans even more - degrading the biggest character (and partly degrading the 2nd or 3rd biggest) just to make your apex character look far better than them in comparison.
Inevitable, when the old cast were portrayed as infallible heroes.
Which has nothing to do with them needing to die to get out of the way of the next trilogy.
We don't know how Episode 9 will end. Maybe they WILL die.
Nobody expected them to be stars in name only, especially OT fans who were following the promo closer than any else. I was there!
So was I, and most of the chatter was about how they figuring that the new characters wouldn't really be leads until Episode 9 and they were hoping the OT characters would be the real stars of the New Trilogy.
Just more rambling, lying, waffling, and back peddling!
LOL!